Robert and Keren
Setting the Stage
Feathers and Finery
The Archway
Lovebugs :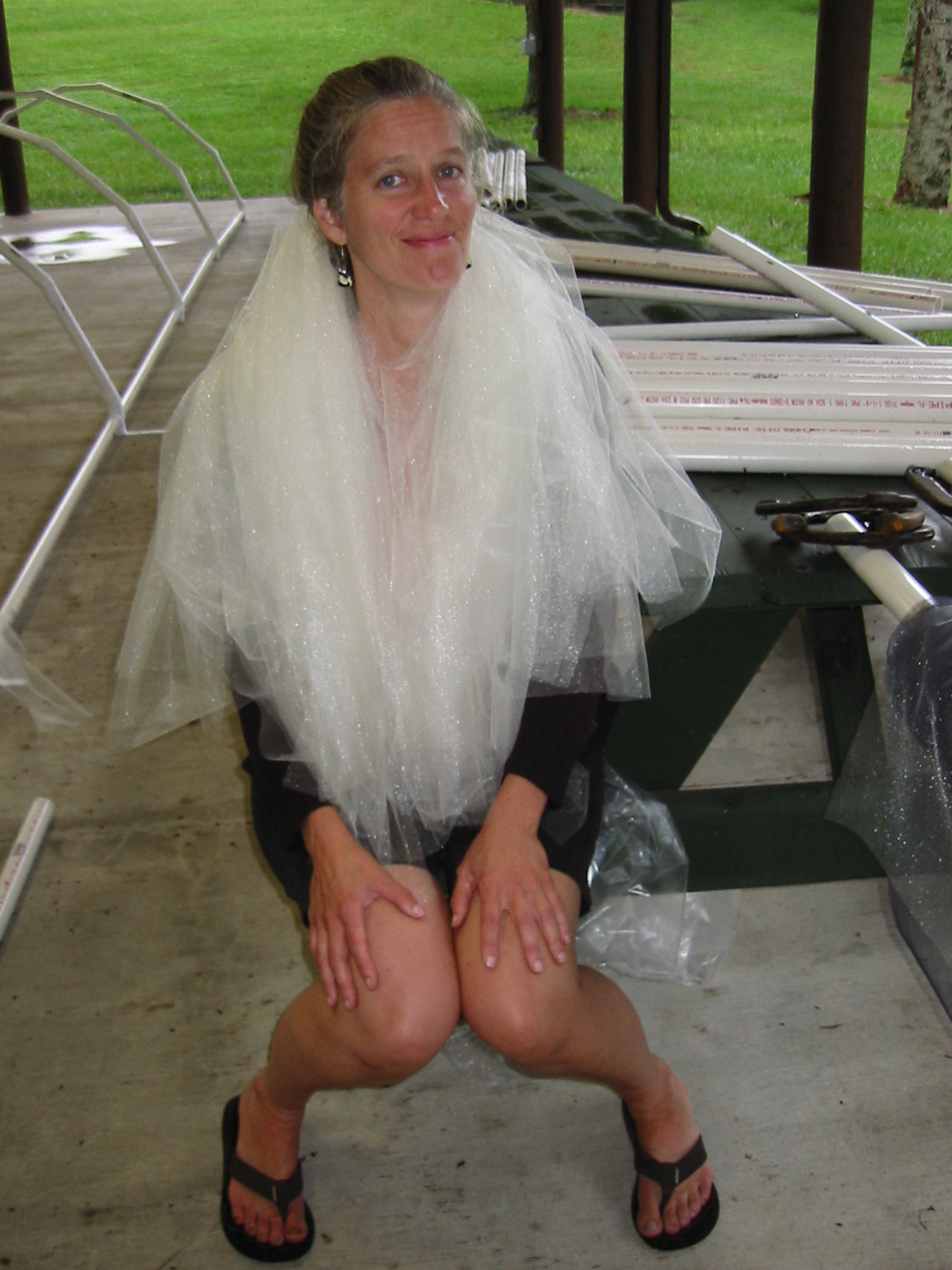 Martha :
Final Touches :
Banners :
The Guestbook :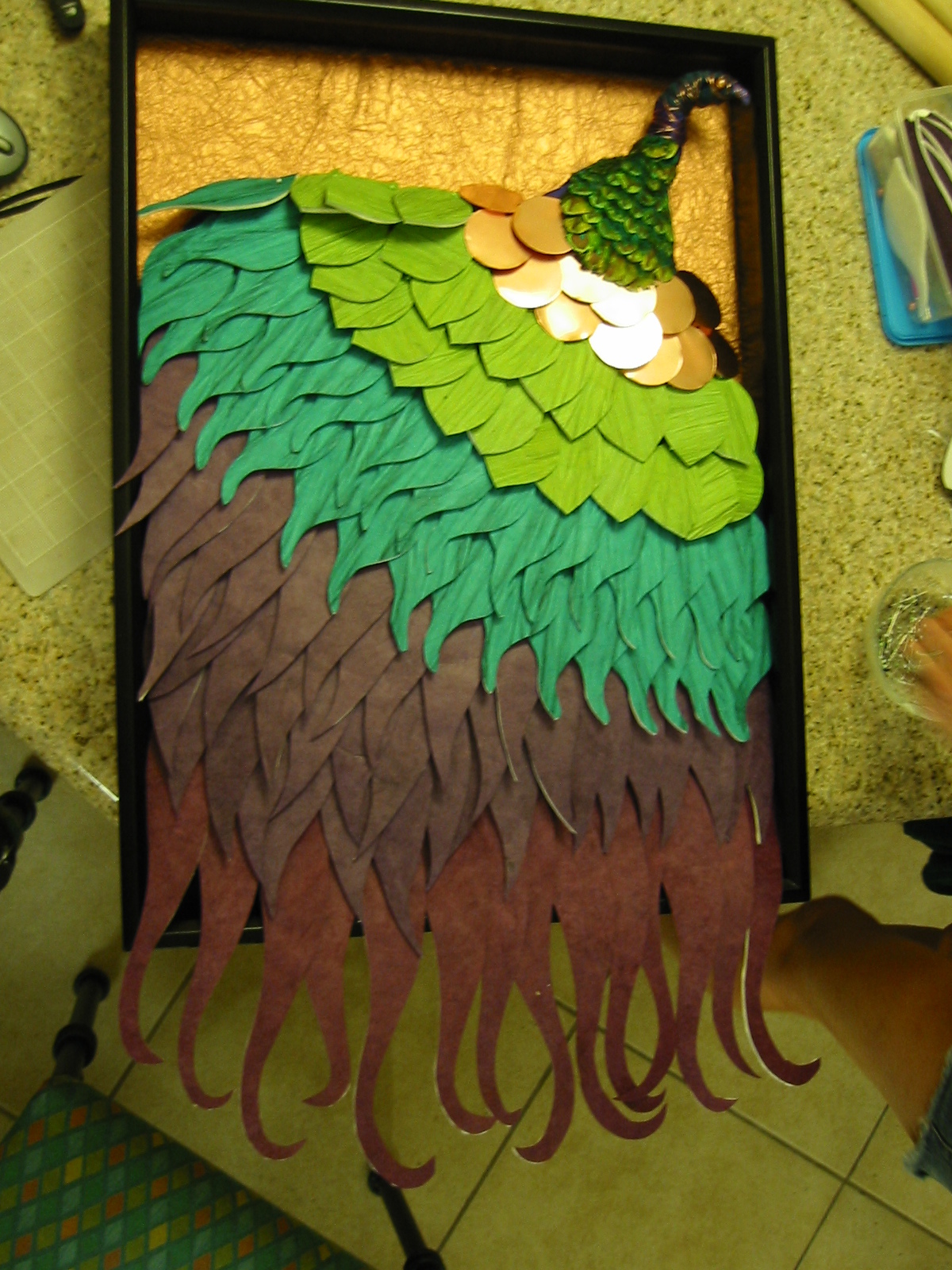 The Dance
The Cocoons
Robert and Keren
Setting the Stage
Feathers and Finery
Body-painting became part of the deal too ...
The Archway
I was tasked with decorating an archway that was to be the entry to both the ceremony and the reception. It had to be moveable, weather-resistant, and created in 4 days.  
The art noveau hanging panels were cut out of 1/4" insulating foam, flexible enough to bend in the breeze. Many exacto blades later, they were ready to ship from NYC to Florida.  
Lovebugs :
Lovebug season wreaked havoc on the creation process, which took place entirely in a picnic pavilion. There was no getting rid of them all, so quite a few came along for the ride.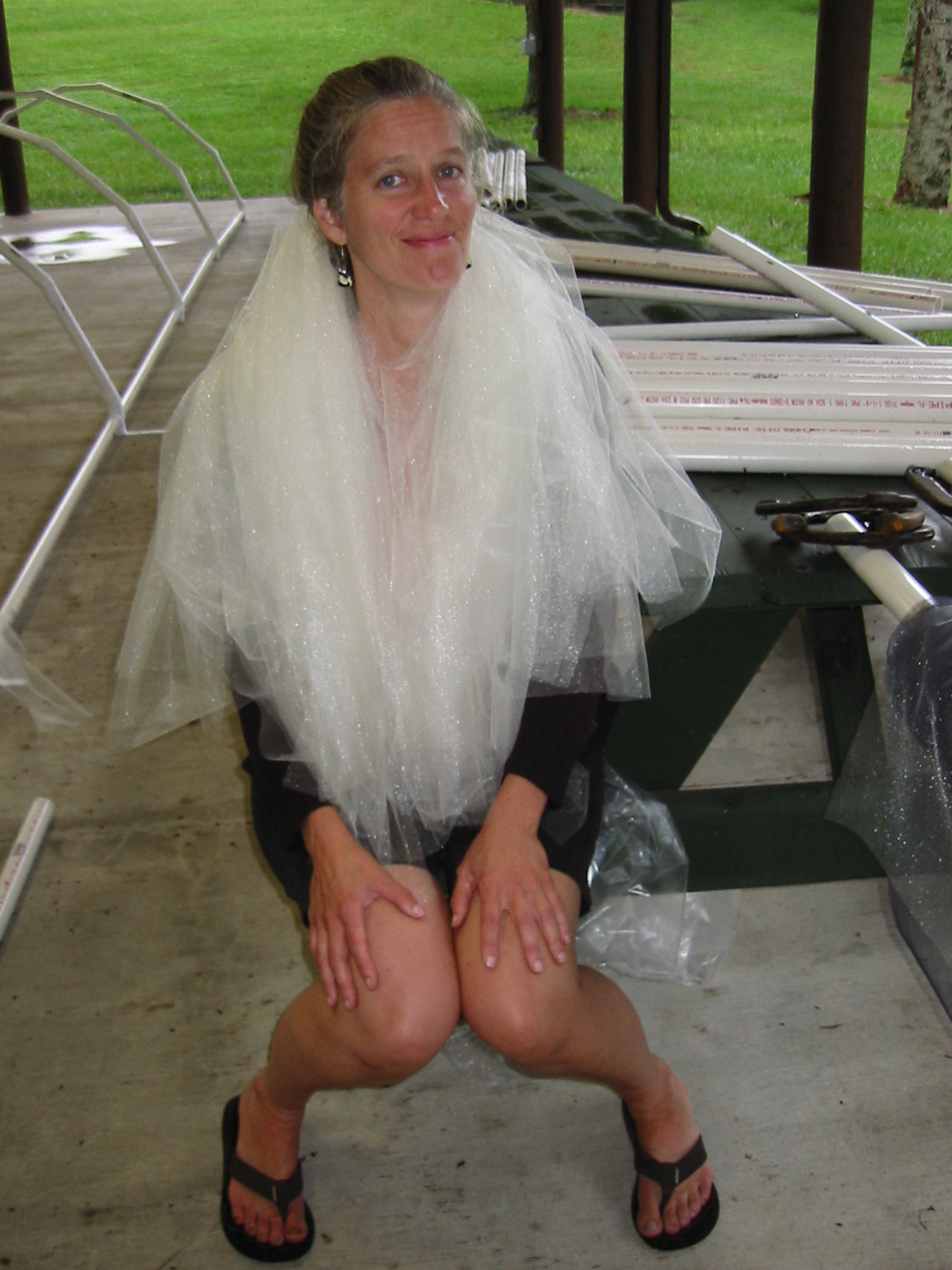 Martha :
My sister, tireless helper.
We worked until dark nearly every night, stapling yards of tulle and figuring out on the fly how to make the PVC pipe disappear, and the archway itself take on a solid enough form.  
Moving the archway for the first time, to the spot for the ceremony.  
Final Touches :
The entrance to the arch was a solved at the last minute by Michael and some copper spray paint ... we took dead palm tree canes and spray painted them and tied them on. It made the perfect bridge between the fabric and the natural setting.
Ready, with a few minutes to spare before the rehearsal. Many hands helped with last minute fixes and stitches and ideas.
Dried bouquets of grasses and feathers decorated every pole.
Banners :
I designed and created 6 banners to rim the outdoor seating area, helping to define the space for the ceremony. They were moved to the reception area and re-used. The archway was also moved, and used as an entryway to the reception.
The Guestbook :
I was asked to design an interactive guestbook that could be used was wall art after the wedding. We ended up with a wire-wrapped silk peacock body, with individually pinned feathers made of handmade paper and copper. Guests picked a feather, signed it, and pinned it to the body.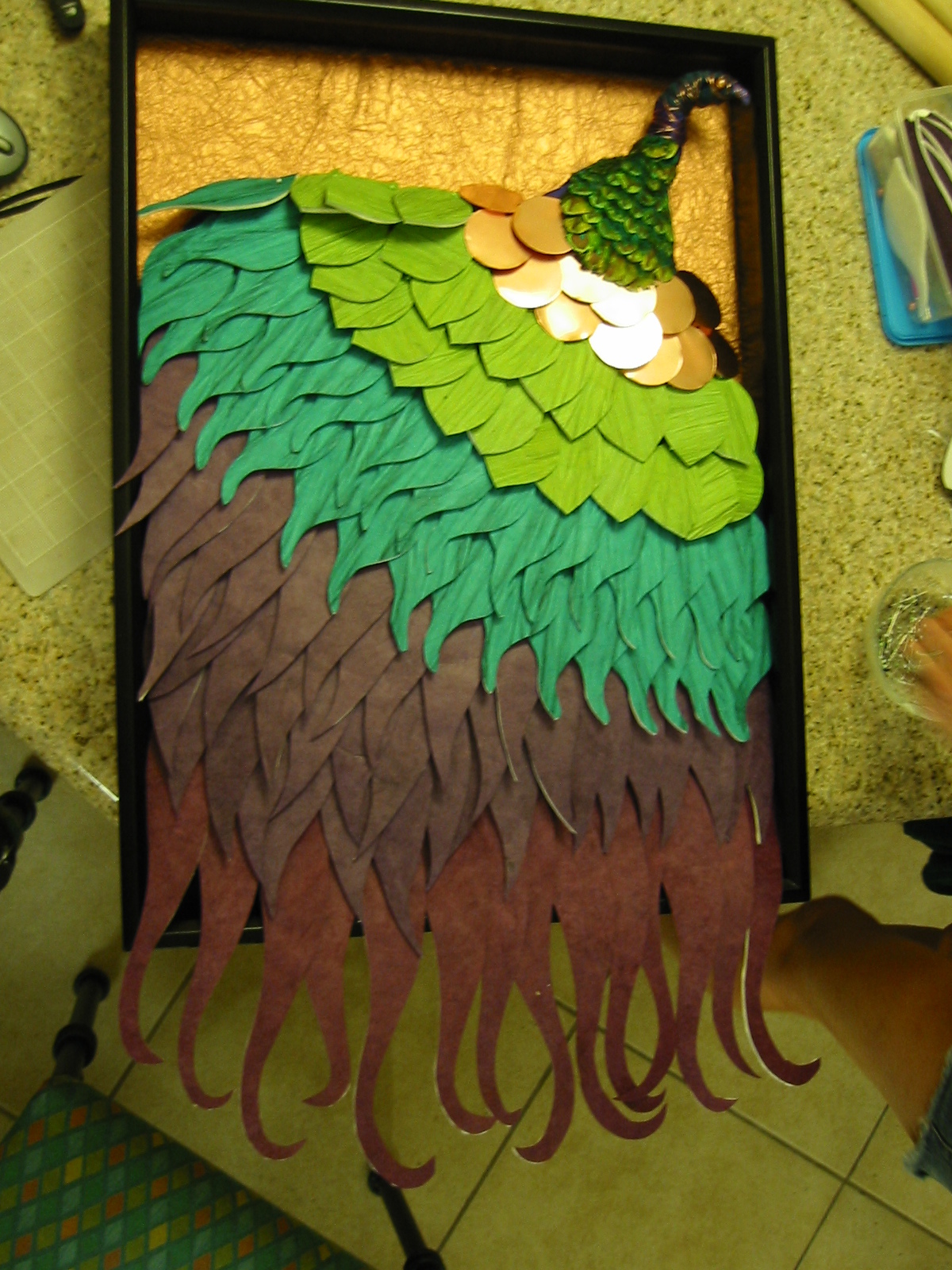 The Dance
Michael was given a piece of Irish music to compose a dance to, for the reception. He chose to create a dance around the process of a caterpillar transforming into a butterfly. He wanted wearable, flappable wings, as well as flying silk cocoons, and so design commenced several months before the wedding. Silk, paint, wire, wood, and hinges.
Wing testing in Brooklyn. Yes, it created a spectacle.  
The Cocoons
Super-lightweight silk gauze which fell in puddles to the floor ... used to make the two flying cocoons.
One of the pair of cocoons in action at the reception. There was a dance set to an Irish tune, which was performed by Michael and Nasir as caterpillars, with then went over Michaels head and he crawled off into the wings, re-emerging as a butterfly.  
1
2
3
4
5
6
7
8
9
10
11
12
13
14
15
16
17
18
19
20
21
22
23
24
25
26
27
28
29
30
31
32
33
34
35
·
·
·
·
·
·
·
·
·
·
·
·
·
·
·
·
·
·
·
·
·
·
·
·
·
·
·
·
·
·
·
·
·
·
·