What a week! Today marks the first full week in our new place, and it's been a crazy whirlwind. I still don't have my real voice back, perhaps the husky raspy thing goes along with plaid jackets and chopping wood? Not sure, but it's here for now. I'm slowly recovering my sleep and general energy, but trying to take it easy. I curled up on the couch today with a book, rather than unpack a few of the lingering boxes. They'll keep :).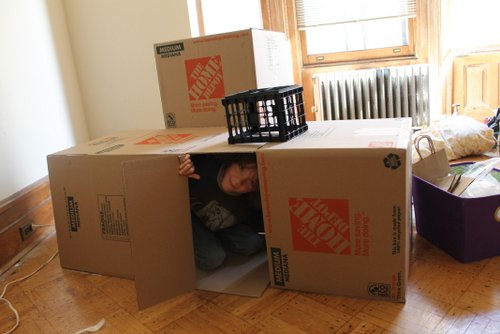 Cleaning out the old apartment seemed downright impossible at the end, and to be honest it's still not quite finished as M's still got his tools there. He's working close to 24/7 to get the painting/patching/sanding done, it's a big job when the place is loaded with trim, high ceilings (oh how I miss high ceilings!) and lots of windows. We're supposed to pick him up Thursday, hoping that works out smoother than the move last Monday. Oy what a day that was!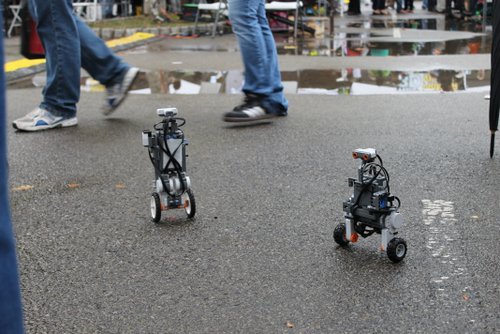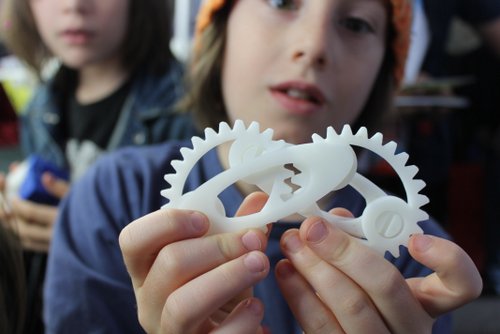 Segway-ish Lego robots … I kept seeing Wall-E in them … We'd spent the entire day before at the Maker Faire, and being downright pooped that night, and our beds gone, we stayed over with friends. It was a fantastic last day in the city, and chock full of good things.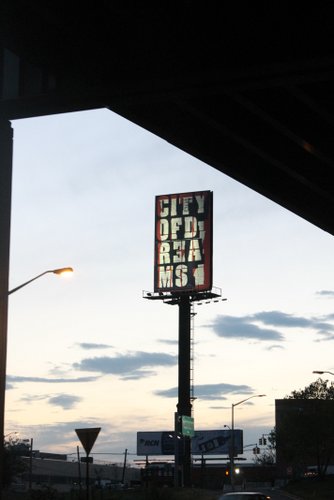 It reminded me of so many things I love about NYC, the people, and the dreams that have grown up, and in, my heart while I lived (t)here. Inspiring in the extreme.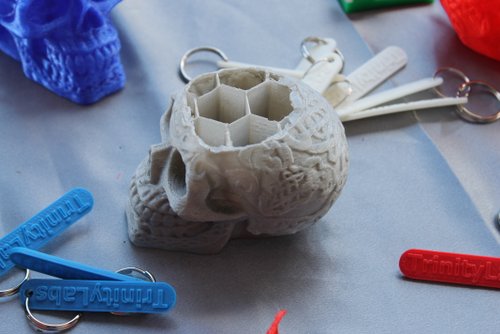 A beautiful goodbye.
Then came Monday morning. Just a few things to pack up, right? Not. I can't begin to remember all the things that took all day, but they just plain did. Stuff to the storage unit, a "moving jar" of coins to be taken to the bank and counted ($278 … it was a big jar!), and laundry to be finished. Package to mail, supplies to buy because I'd no idea when I'd next find a store that had X, Y, or Z, and wanted to give myself a small cushion at least. Meals to eat. Fridge and freezer contents to pack. We didn't start loading the Jeep until about 5:30 or 6. By the time it was completely stuffed full of cats, kids, plants, perishables, and all the weird and awkward stuff, we didn't say goodbye to Michael until about 7:30.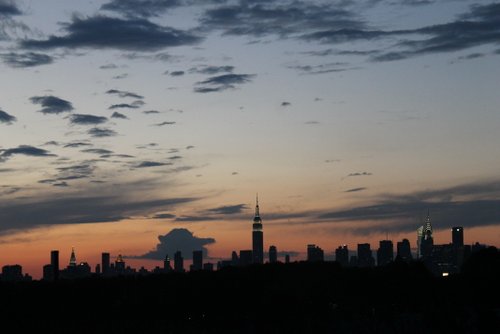 The drive started off well enough, and should have taken about 3 hours, assuming little traffic. We flew across the city, up the west side, and over the GW Bridge. As I swung onto the Palisades Parkway to go north, I had a momentary twinge. It was about 8:30, well dark, and I was getting on a stretch of road with no shoulders, no streetlights, and very few services. Then I decided I was just being squeamish, and had nothing to worry about. Less than 10 miles later, my ABS light came on, and the brakes started smoking big time. I pulled over as soon as I could find a spot, called M, and asked what to do. My energy was at a super low ebb, I was tired and emotional and still sick, and had virtually no resourcefulness left in my arsenal. His suggestion of turning the car off/on again solved it temporarily, but another 3 miles and it seized up again. I managed to check the brake fluid using my cell phone as a light, but still no answers.
Then the big debate about whether to turn back and limp home and unload, or keep going and hope it didn't happen again. I slowly started going north again on side roads, and it seemed to go away. After I'd passed the halfway point, the light came on again but the brakes didn't smoke or sieze up anymore. Checking in with some guys working late at an auto-body shop (I swear one of them looked just like the guy in Pirates of the Carribean whose eyeball keeps falling out, complete with his gold teeth and bandana) netted me the opinion that it was a sensor/computer problem. My mind went back to the work we'd just had done on the car, including replacing most of the ABS system, and I called home yet again to express my trepidation over going further and into even more remote areas.
M decided to borrow a car and come follow me up, so I pulled into a McD's parking lot and went to sleep, like my boys and the cats (bless them!) already had. Somewhere in there one of the stacked cat carriers fell over into Fynn's lap, and he didn't even stir. True exhaustion. M found us, and we limped our way to the new house with me pulling over every time the light came on, and restarting the car. We got in around 2:30 am, and still had to unload and get food back in the fridge and litter boxes set up. We slept well, and part of me was very glad that we had all of us there together for that first night, it just plain felt right.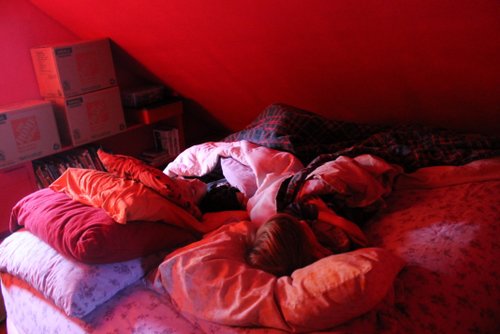 I think they have enough pillows, yes?The car drama was solved fairly easily in the end, with the mechanic who'd fixed it saying it was fine to drive, and that he'd take care of it as soon as we brought it in. That he did, despite the fact that it was a different part than any of the ones he'd fixed before. So thankful.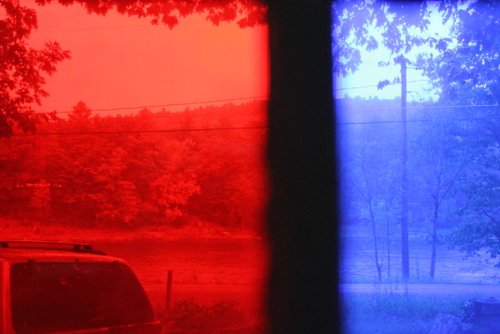 View out the front door, thru the stained glass squares. So now the transition begins. Feet in two places, or at least a toe left in the city, and how will the commute and all that work? Being alone in the quiet with the boys is a huge shift, and they rather cling to me after dark. I don't mind that to be honest, I'm not all that comfortable with it myself but it's growing on me. I still scuttle a bit (a lot perhaps?) when I forget to turn the basement fans off (battling the damp begins!) at night, and have to go down there via the outside entrance and turn off lights and close up the metal spider-infested doors. It's just plain dark out here, and it's been so cloudy that there's not a night yet where I've seen the stars. That day will come though.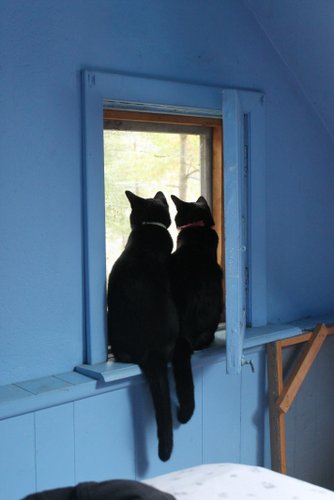 I've spent the week unpacking, wandering in search of stores and post offices and such, and taking care of license and utility stuff. Finally tonight we had our first fire in the fireplace, thanks to my virgin woodcutting attempt (there is MUCH to learn!), and managed an almost idyllic game of Monopoly in front of it. Of course there was soot blown all over the board when the heat fans finally came on, and it took me forever to get it going, but it was still lovely to have.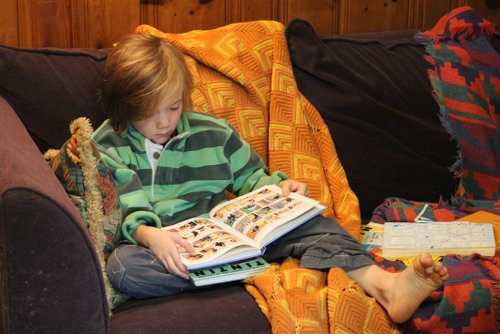 Schooling has gotten off to a slow start, but it's going, and will pick up steam soon. I have to register with the PA system, which is a bit more hands-on than the NY one, so that's next week's task. The boys are more than ready to sink their teeth into something, and have some sort of routine again, the rocking boat has been hard for all of us. I'm also starting to realize how much of the time M is going to be away, and what that will feel like. I guess it's good to start out that way, so I don't get too used to having him here to take care of things, as I'll be the one dealing with most of the house and maintenance stuff. There's a lot of it too, at least compared to the city life of a renter. I'm honestly glad it's a small place, and it really does feel cozy and home-like already.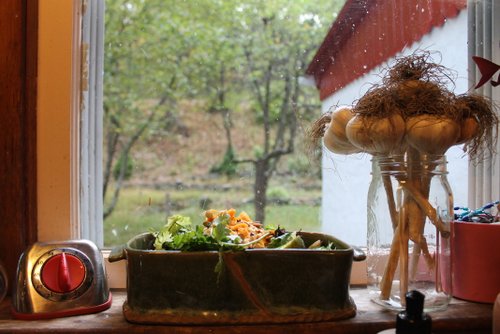 Compost waiting to go out, and a dirty kitchen window … can't complain about the view though!I expected NYC to both make and break me, and I think it did. I know this place will do the same, and some of it will be beautiful, some of it painful. It's one extreme to the other, and each one satisfies deep cravings of mine. Energy to stillness. Crowds to solitude. Choices to simplicity. I don't know what this winter holds for us, or what walls I'll run into, but I do feel at home, and that's a great place to start.