Not all pics are from today, this was a sunset last week some time …
The alarm went off at 4:30 this morning, and as usual it was a brutal up-rising … car to warm up, food and sundries to throw at M as he packed his bag, jackets to find, and warm sleepy boys to drag out of bed and into the car. It's Monday, and that means time to send Dad back into the city for the week. He has to catch at train at 6am to get into Manhattan for 9am, and the drive to the station is about 40 minutes. By the time he'd run back into the house for his phone and charger, we got on the road, crept over the bridge, and raced down hwy 97 entirely too fast (IMHO) for the fog and dark and lurking deer. I munched cold granola and started to fall asleep, trying not to wake up completely but knowing it was a losing battle.
Kissing M goodbye and crawling over into the driver's seat, we set off back home, slightly slower than before, and arriving just as the sky was starting to lighten. We all dove back into warm beds, and didn't surface again until 10-ish. Days that start that early, when the night before was just as late as usual? I have to set my sights lower, a struggle of mine that's come right along with me. What do you mean we can't get as much schoolwork and yard-work done when we get up from the breakfast table at 11?! Expectations, the death of me I'm sure.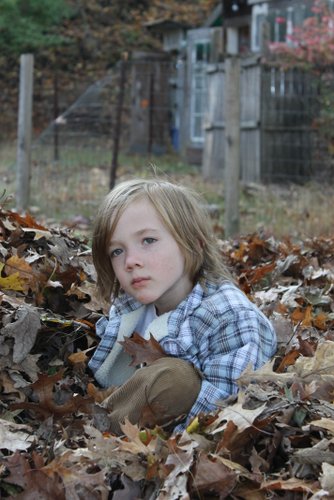 Aside from writing and chemistry and math work for the boys, the main focus of the day was getting the leaf piles taken care of before the wind does it's dirty work and spreads them, not to mention dumping more leaves.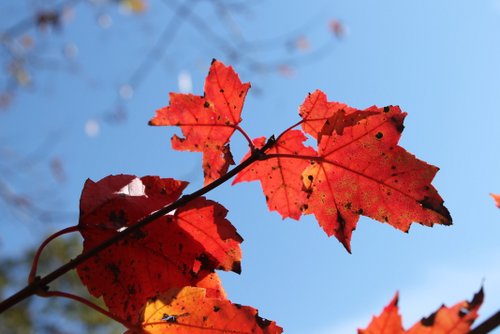 And more leaves, and then some more … the blessing of mighty oaks and maples and all their beauty shading the house, yes, it comes with a density of leaves covering the lawn that challenges even the best of rakes and shoulders. Wet leaves? Bah. Rain is due for the next two days, so I was motivated. The boys? Not so much, they preferred to race around waving the blue tarp and pretending to be blobs. That went just fine until Fynn misjudged a run with the tarp over his head, and ran full-force into one of those mighty oaks. A gorgeous goose-egg was his souvenir.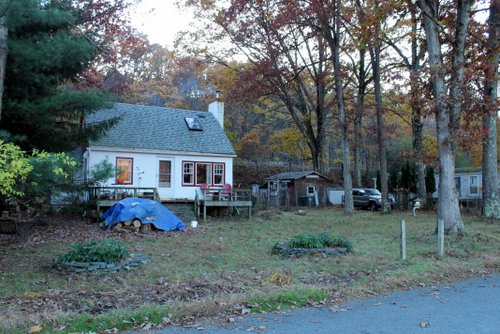 A tarp you ask? The uses are many, from covering the woodpile to a giant cape to dragging huge piles of leaves across the road and dumping them on the upper part of the riverbank. Years ago several huge floods took out a lot of the dirt and trees along the river, and the hope is that the soil can be replenished gradually by making a big leaf/branch compost pile. It seems to be working slowly, and I can't argue that I'd rather bag them all, so over the edge they go.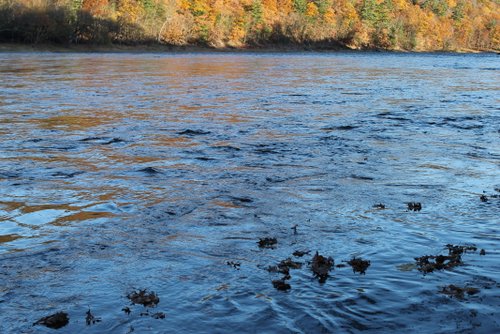 One small pile was tossed in the river, the offering du-jour of the boys to the vagaries of the current. Is there anything more fun than throwing things in the river? Not to city boys just transplanted to the country, that's for sure. Endless delights, although working on their stone fort is coming a close second. They went for a walk in the woods yesterday with M, and while they were out I planned to wash the dirty kitchen windows and put in the storms.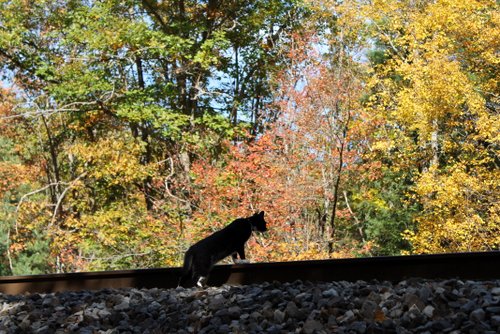 All fine and dandy, but I got sidetracked looking for Edmund's missing collar (I should just buy a dozen I think, he's going to lose it constantly) along the riverbank and suddenly seeing the perfect spot to build the boys a fort. I got a reasonable start on the walls and floor, planted a flag, built a seat, and worked on the walkway to it. They came home intending to build gnome houses with the twigs and rock they'd gathered in the woods, but fort-building took over immediately. I think it will keep them busy for a looong time.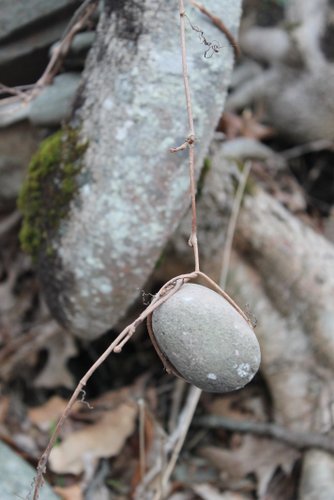 The fort's clock, which is also rigged as a weapon but I can't give away the details … Back to today … with the late breakfast, wrestling D over his writing (an ongoing saga), and leaf hauling, lunch didn't happen until mid-afternoon, and as I hadn't gotten as far as I hoped on the leaves and got short-tempered with the boys, I finally agreed to bring it down to the fort as a bit of a peace offering. They built me a seat while I heated soup and made grilled cheese, and we had a delightful meal in the sun. Somewhere in there they did their math, and then we took the Chemistry book down to the fort, along with jackets, and I kept running back into the house to put more wood on the fire, get the lamb out to thaw for supper, and remembering a jillon other things on the I-hope-to-get-to-it-today list. Any tips on paring down lists? I could use them!
Schooling finished, we came inside and D and I started supper while Fynn had his computer time. I realized how frustrated D's been with offering to make meals, and me often saying not tonight because he offers at 6:30pm when our blood sugars are all in the toilet and I'm about to go into overdrive to get something on the table before we all kill each other. So while we worked together tonight (he made excellent lamb tacos and gluten-free pastries!) we agreed that he'd take on Wednesday nights, and would tell me a few days before what ingredients he wanted on hand so I could get them in time. No Mr Coco (our old corner bodega) to send him out to here, the nearest groceries are 20-30 minutes away, and if you want any kind of non-factory farmed meat you have to drive almost an hour, or else put your order in with the farmer early in the week for pickup on Friday.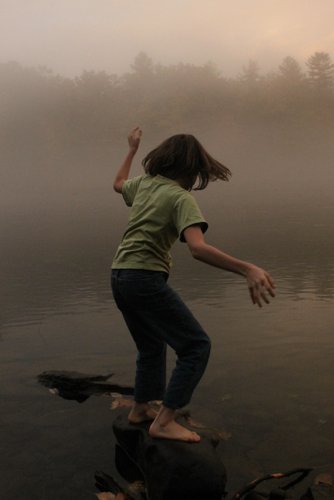 D and I have a lot of issues to work out, and some of them have risen closer to the surface since we moved. We're spending more time together, but have M here much less, and I think in the end it's a good thing but some days I hope we survive the interim. Cooking together is step in the right direction. So is giving him more responsibilities, and since I can't send him out alone he gets to cut wood and handle power tools instead. I think he's enjoying it :).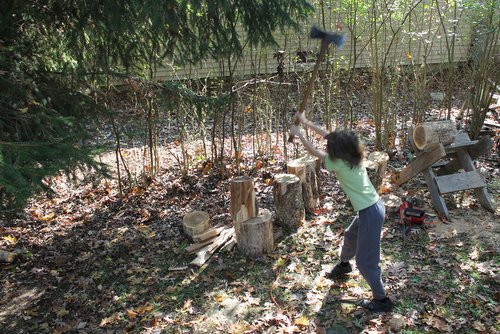 The wood needs are never ending, and it's been cold enough that we can handle having the fire going most of the time. The house is still rather damp, though we've gotten the basement mostly dry … living between a wee mountain and a river has it's challenges. The wood fire helps dry it out more than the propane heater, and besides it's just plain delightful to have a fire going. The cats curl up on the couches on either side of the fireplace, and then move on upstairs when I eventually crawl into bed, like they'll do shortly.
We ended the day with an after-dinner movie, and as it was the first true test of the new cable service here, I was pleasantly surprised that Netflix delivered without a single blip. It gives me hope for my Downton Abbey plans for January's dark nights, thank you very much. Movie over, I ran out and turned off the exhaust fans and lights in the basement while the boys brushed their teeth, accidentally slamming the heavy metal doors that cover the steps when I came up. I confess that I'm not that comfortable running around out there in the pitch dark, out of range of the front-porch light. I'm adjusting, but it's still very dark and just a bit too quiet for comfort. So when I ran back to the studio to put something away there too, a loud rustling next to the building made me pause, listen, and then decide that as I couldn't see anything anyhow and would be feeling for doorlatches and the pull-cord for the light, it could just wait for morning thank-you-very much.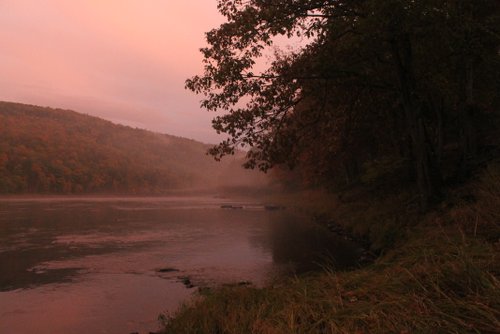 After getting the boys in bed, I curled up on the couch with my latest book and devoured a few more chapters. A bit of bill paying, and now blogging, and at last I'm ready to crawl in. The days are full, but they're dramatically different. There's a rhythm to find, assumptions to drop, and new friends to dig up. Exploring to do, friends to call, pictures to hang, and another bookcase or two to buy. Once M has a week where's he's not working in the city, he can finish setting up a workshop in the basement, build a wood-shed, and get the studio organized into something usable.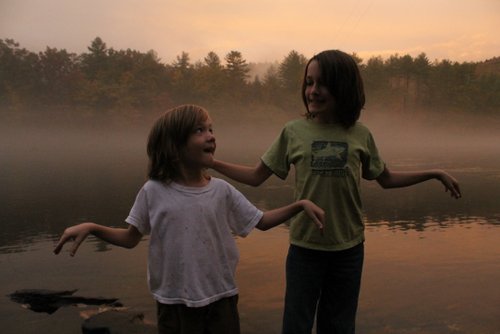 All that fitted in between hikes in the woods, unsticking windows for me, chopping wood, and pitching in on the raking and tidying and sorting that comes with taking over a half acre in the woods that hasn't been lived in for 2 years. There's a lot of reclaiming to do, and I'm trying to learn to pace myself. Some things never change, do they?!