When I started homeschooling, I was told that I'd be likely to confront my own issues at an unprecedented level. While the idea seemed strange to me, it's proved very true. Moving to the woods made me suspect the same thing would happen, and while I've not been caught off guard this time, it's certainly not any easier.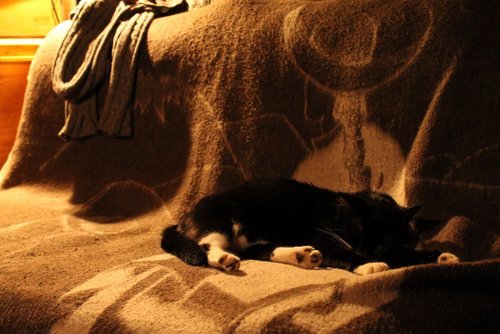 It's quiet here. Very quiet. You know how your sleeping radar changes depending on what's going on in your life, and where you live? The things that can wake you up take a big shift when you have kids, when they start sleeping through the night, when they start going out at night, etc … what's important changes. The only thing that seems to wake me up here is cars slowing down/stopping by the house, or the sound of a log falling in the fireplace. Visitors are rare, especially unannounced ones, so I bolted upright in bed a few Sundays ago at the sound of a pickup truck backing into the yard. Wood delivery, hello morning! The log falling bit is because when Michael's away, which is most of the time, I have to keep the fire stoked and I'm not entirely comfortable yet with the concept of leaving things burning while I'm sleeping. It's a well-made fireplace insert, there's no reason to worry, I just have to get used to it and always remember to put the latch down when I close the doors. New habits, new worries.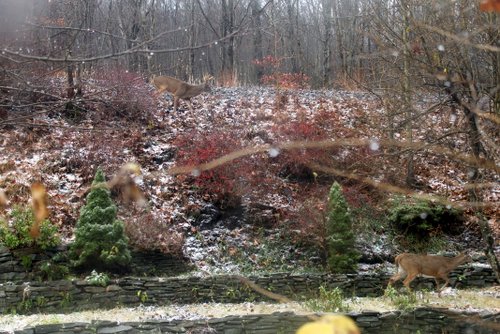 View out my desk window last weekOne thing I'm definitely not used to is winter starting in November, with night temps below freezing starting before Hallowe'en. Wool socks are the norm, as are layers, and I really hope the small shovels we got for the boys get used for more than swords, and survive long enough to do some walkway clearing at least. If my experience with leaves is any indication, I need to get in better shape before the real snow hits. I've had tendinitis in my elbows for a couple of weeks now thanks to some mad raking episodes, slow and steady doesn't come easily to me. 7 huge trees can drop a LOT of leaves!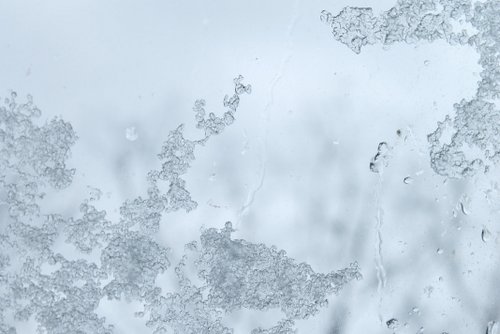 I've never felt the urgency to get 'ready for winter' in the same way, it's a whole different world. Snow tires, stocking up, assuming we'll lose power at times (neighbors say to expect it and the brief gusty hurricane winds proved it), extra warm layers purchased, stockpiling wood, and insulating the studio and basement so that pipes and paintings won't freeze. Living this way is enjoyable, foreign, and feels deliciously right. But that confronting yourself thing? It's like someone distilled my issues into something 80 proof and handed me a tumbler full. Sipping doesn't really help … you can't get away from yourself in the quiet, it just stares you back in the face, and echoes everything for good measure.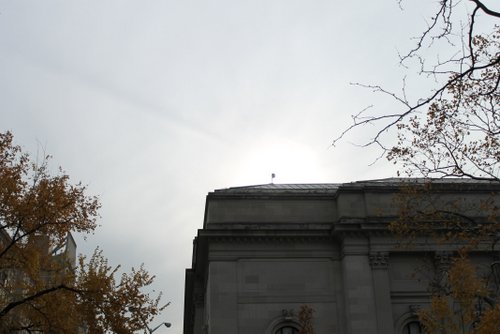 I found a home in the city for years that was more "me" than any place I'd ever lived. It was what I needed, and wanted, and now that some of my walls and defenses have been cracked open, I'm in a place where the distractions are minimal and the silences powerful. I'm raw, but glad to be so. Scared, but not really afraid. Tired, but reveling in the aches just like I used to after a long run. It's a good place to be most days, and a great place when we're all here.
I knew in my head that Michael'd be gone a lot of the time, but the reality is that part is harder than I imagined. I've solo parented for a long stretch before, but this is a bit different. He's pretty much here on weekends only, other than taking a few days off to work on the house. The days are full, we're not moping around when he's away, but we all feel the hole of an incomplete family. There's no backup, no trading of responsibilities, and no real way to get away if I need to. I'm learning to go sit by the river to be alone, and put some chairs down there yesterday to make it more inviting. It may be cold, but it's soothing and a great place to think.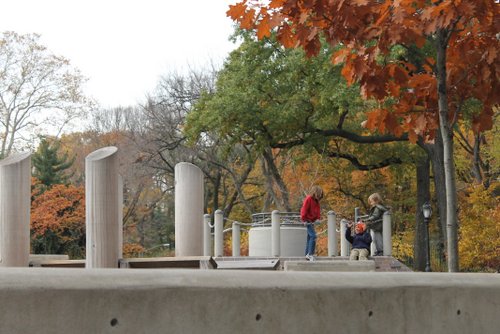 I'm with the boys more than ever, but the distractions are quieter. They build forts and treehouses and hunt for railroad spikes, and being outside is great, but it's not like the hum of the city as far as activity goes. If we need to get a break from each other, there's no park to run to, or doors to knock on. We. Are. It. No audience, no critics, just us. (There will be some summer neighbors, just no kids around now.) It's a humbling thing, this parenting-in-the-quietness, but I think D and I have made at least one breakthrough in the last month thanks to rubbing shoulders and edges more often, and finding new ways to communicate. Scary, but oh so good.
As for spending time with friends, we're still getting into the city once a week for cello lessons, and often go in early to socialize for a few hours first. Golden time, but the days are super long as it's a 2.5 hour drive each way. Last week I nearly lost it completely as we street-parked twice in Manhattan, and each time it took an hour to find parking. Circling blocks looking at parking regulation signs gets really old really fast, and my patience doesn't tend to last as long as the hunt. They're getting to be pros at curling up in the car though, not always in such pretzel shapes as my eldest is demonstrating however. I think he was protesting getting out of the car and into bed, not so fun in the cold.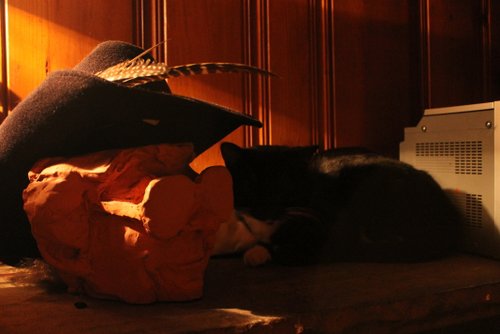 You're wondering about smoky cellos? Last week as Fynn was getting tuned before his group class, the student teacher sniffed and commented that his cello smelled like bacon. Then she amended that to smelling like smoke, but in a good way, so I explained that it was stored next to a wood stove. The woods are starting to show in the city I think, faster than I expected. My fingernails are chipped, my car dirty from back roads, and I've nearly perfected the one-handed-half-wave while steering the car.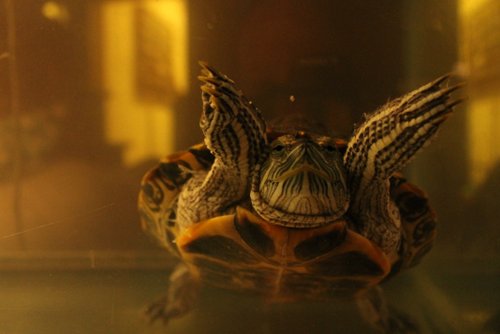 To round out the family adjustments, the cats and Sloop the turtle seem happier than ever. We upgraded Sloop's tank thanks to Craigslist, and she's much more in the center of things and gets offered a lot more attention now. The cats are finding new (warm) perches and are thrilled with being allowed outdoors. I've limited them to daylight hours so far, but they're pretty happy with that. They're showing their city-cat background though, as D's cat decided to get himself into a scrape last weekend.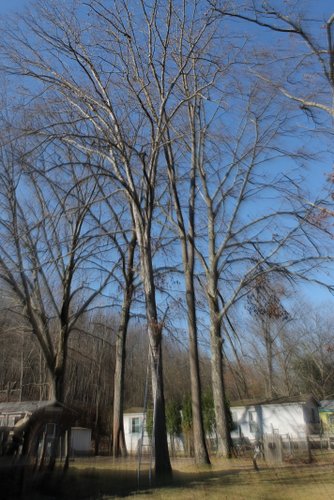 See that tiny little black bit up near the top of the tree? That would be Edmund, having chased a bird or something and gotten quite a bit beyond his comfort zone. He clung to the branch for a couple of hours with only a twig to wrap his paws around, then slid down to a crook in the tree a mere 60' off the ground, where he camped out and cried and looked miserable for the next 8 hours. After trying to find ways to help him but coming up with nothing other than a ladder to break up the last 30-foot stretch, we just let him be. The dark, dropping temps, and an occasional mother-cat-meow by yours truly seemed to do the trick, and he came scratching at the door right before the boys went to bed. A relief to all concerned, including (likely) the neighbors across the river who were in for the weekend and could see and hear everything. So I guess there's an audience sometimes :).