We have a place, at last! Major relief, and I can't argue with a front yard like this. I really can't. So thankful for it. The house is tiny but perfect, and has a studio out back which makes it even better. Packing is crazy-making but good, and my sis has come to help and I think I'd have gone ballistic if she hadn't. Getting kids to pack/purge their stuff? Not for the faint of heart. I hope we all survive. The lego armada has yet to be tackled, but I'm leaving it till last. And books, how on earth did we get this many? Getting rid of lots, but there are many many more where they came from.
D-day is the 30th, but stuff has to be moved out earlier so the apt can be painted before then. We'll be camping out here in whatever rooms aren't being worked on, and trying to get in as many playdates and visits as possible. We bought a car, which was good, but the fact that it turned out to be a lemon? Not so good. Artists aren't mechanics, and we should have taken it to one before buying something used, but learned the hard way. Repairs are doubling the cost, which sucks bit time, but at least we'll have something to drive at the end of it all. After 9 years of no car, it's a novelty to say the least.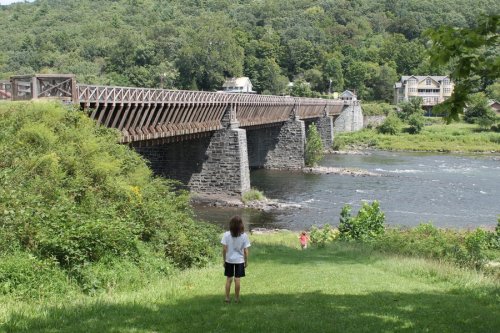 We'll cross this bridge several times a week, it's only a few miles from the house, and I love that fact that it was the first bridge built by Roebling, whose crowning glory was the Brooklyn Bridge that I've lived near and loved for so many years! I'll have to run this one too. I feel like I've been running for months, more in my head than anything, and am looking forward to getting through the next few weeks and settling into country life. I have no doubt I'll go stark raving mad sometimes with the solitude, but we plan to commute into the city one day a week, 2.5 hours each way, to finish the last year of Fynn's cello program. Crazy perhaps, but a good balance to ease us into more solitary life. Life is changing, and it's a very very good thing.