It gets worse before it gets better, right? This is Fynn's idea of how to sort his drawings … really helps you feel like you're making progress. It always seems like the point at which the papers and legos are scattered the farthest is when the landlord calls to say the realtor will be through in 2 hours with another possible tenant who wants to see the apartment. I go on a crazy cleanup binge so that they can at least walk from one end of the house to the other without breaking an ankle, but it starts to get a bit old.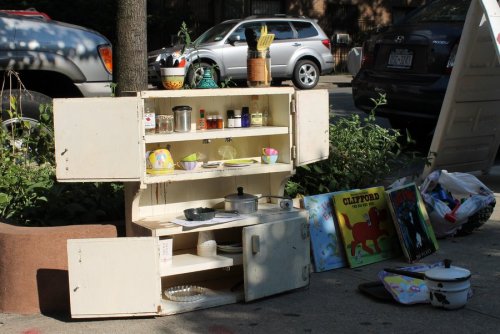 Fynn's kitchen for sale at one of our recent stoop sales … Things are starting to come together though, with the inevitable setbacks. Housing almost settled, will know for sure by tomorrow night. Bought a used car, which turned out be of the lemon variety and we should have done more homework I guess but the lemon law isn't on our side so we're sucking it up and paying for the repairs, despite the fact that it doubles the cost of the car and eats up what little cushion we had for anything else that might crop up. Life moves on. The boys are ecstatic to have a vehicle, they can't remember the last time we owned one (9 years ago) and so they're delighted every time they get a chance to ride in it. It's a 4WD Jeep Cherokee, nice and old, and they feel like kings looking out the windows and being up high.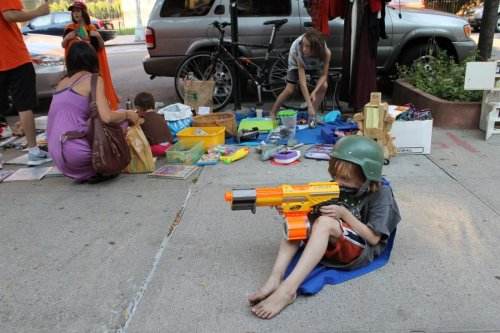 Packing is so slow, but the progress is starting to be visible. We have to be packed up in the next 7 days, and hopefully moved by the middle of next week, so that my husband can patch/paint our entire apartment before we actually get out. We plan to be camping out in whatever rooms he's not working on, trying to keep cats out of the paint and getting in as many playdates and outings and visits as possible. Every time a friend calls and wants to hang out, I do because I don't know when I'll have the chance again, but it doesn't help the boxing up part of the job. My sis arrives in 2 days, and I can't wait for her help, not to mention her company and voice of reason and sanity.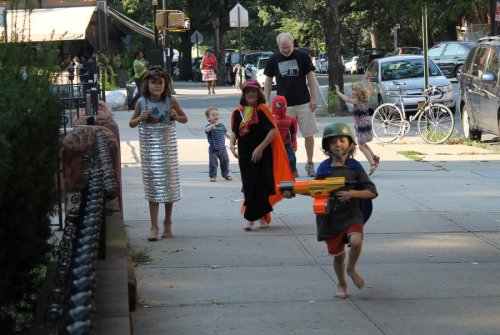 Raiding the costume bin to attract customers to their sale, enticing them at the corner and leading them down the block … determined salesmen!I'm hanging on because the slope only goes down from here, and whatever will be, will be. Uncertainty? I've really started to make peace with it in the last few months, and so far it's feeling great. There's a dual freedom and terror in not knowing how you're going to make a living, or even where you'll be living, but it makes the possibilities feel almost endless. I know it's affecting the boys similarly … they're looking forward to the woods and river and fields (pending tomorrow's outcome), but also trepidatious about missing friends and playdates and the routine they've grown used to here. We'll find a new one, but getting them settled into it will take some time, and I hope I have the patience to ease them into it, remembering that it will take them emotional and physical time to adjust. I need to give myself that time too.