Eugene, my neighbor of 9 years, turned 92 last week. He's the oldest of the old-timers around here, and I'm sad to say I didn't really meet him until about 18 months ago. You see, he's lived in the house next door for over 70 years, and in this neighborhood his entire life, and he's not forgotten a thing. I can't really think about the 7 years I didn't know him, and just enjoy every minute I get to sit on his porch and listen to his stories. He has no end of them, that's for sure.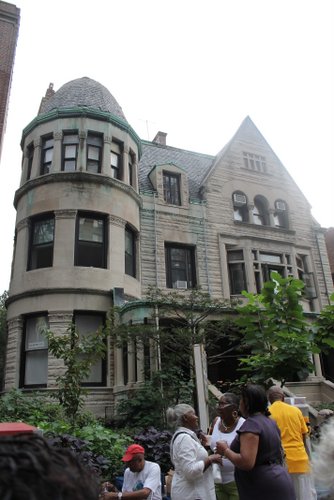 The house next door … I first noticed his brother Bernard, who was the younger and spryer of the pair, walking around the neighborhood running his errands. We gradually got on Hi-how-are-you terms in the street, though we never really talked. I'd see Eugene once in awhile on the porch, sitting by a fragile white-haired woman whose skin was slowly turning translucent. We never met, though once in a long while I'd see Eugene slowly shuffling down the street.
It all changed almost 2 years ago, when Bernard suddenly passed away. I heard about it from my landlord (who's a young 80-something himself), so the next time I saw the stooped-over older brother on the street, I went to talk to him and offer my condolences. He cried talking about it, and that got the ball rolling I guess. He told me how much he missed sitting on the porch talking to his brother, and how lonely it was, so I started stopping by whenever I could. It took a few visits for him to really warm up, but now we just can't stop talking once we get started.
I'm not used to talking to people who offer "well, that would have been when Roosevelt was president" as part of a conversation. To someone born in 1920, that's just par for the course I guess. He's lived a fascinating life, and loves talking about it. His dad was a "sandhog" who helped dig the Holland Tunnel that I've driven through countless times, and Eugene himself worked as a tree-cutter for the CCC as a teenager (hence the Roosevelt reference) and then ended up as an electrician wiring subs and battleships in the Navy Yards just down the street during WW2. His brother was a tail gunner in a B17 during the war, and I was taught how the position varied as the war progressed. Needless to say my boys are fascinated. They also were thrilled when he brought out his old pacemaker to show them, he had it replaced a few months back, and had stashed the old one in a ziplock bag, complete with a few dabs of dried blood.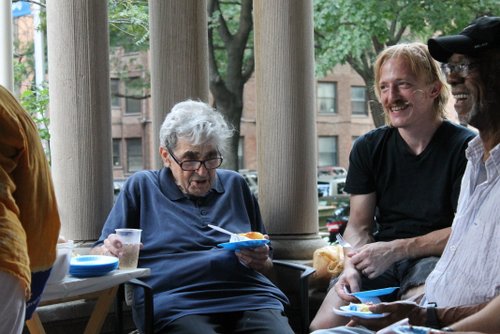 He knows this history of this neighborhood, and loves it to death. He's a bit baffled by our decision to move, as he can't imagine living away from people really, having been a city boy all his life. I think his brother's death has really brought him out of his shell, as he's been forced to go out and do the things that Bernard always took care of. The old woman who I used to see him with was his sister Helen, who passed away about 9 months ago. There were 6 siblings in all, but Eugene (#5 in the lineup) is the last one alive. He has a nephew who comes to help him out occasionally with repairs to the house, as Eugene still manages the rental of all 8 units in his building. When his dad bought the house 70 years ago it was still a single-family home, and his dad split it up into 8 apartments, one for each of the kids, plus a dentist's office as that was Bernard's profession.
I could tell you his stories for hours, as I never get tired of them, but I'd rather tell you what he's like. The best example I can think of was last week when the boys and I ran into him on the bus stop. He was off to visit his girlfriend of 40 years, Louise, who had had fall in her apartment and was in rehab. He was waiting in the hot sun, and so we stood by him and chatted. The bus came, and he made sure that I got on first, no arguments. It was pretty crowded, but there were 2 seats in the disabled-priority area in the front. He motioned me to the first one, and I asked him where he was going to sit? He indicated the further-away one, so I sat down and pulled Fynn onto my lap.
At the next stop, a woman got on toting a stroller, a toddler by the hand, and a baby in a sling. He immediately starts to get out of his seat and offer it to her, and was rather miffed when she distractedly declined his offer, and then almost immediately took the offer of a seat further back. He got out of his seat then and came to stand by me so we could talk until I had to get off. He didn't understand really why she wouldn't take his spot, and my feeble "but I think she thought you needed it" was met with a distracted hmph. That's Eugene right there.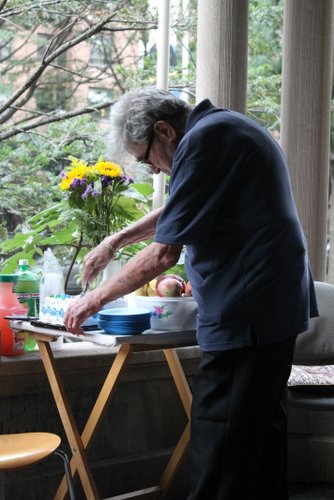 I've slowly learned with him that he really doesn't want to be treated like an elder, and quite honestly I think it's a large part of what keeps him able to do all he does. He shovels his own walkways, waters the trees every morning, grocery shops, takes public transportation everywhere (though he admits to using the Access-a-Ride service once in awhile) and gets up early and goes to bed late. Not to mention visiting Louise almost every day, carrying her new TV home from the store ("it wasn't far" he says), poring over handyman magazines at the library, and being an attentive and beloved landlord. At his own birthday party he couldn't sit still until everyone had a piece of cake, mostly hand-delivered by him.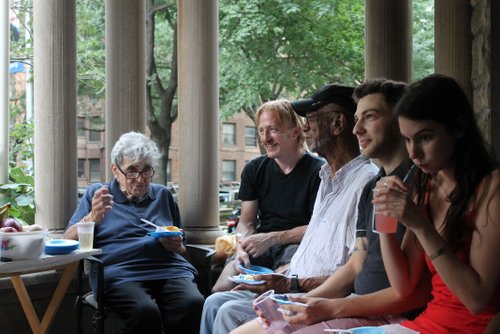 He's a delight to end all delights, and I'm going to miss him. I know it's mutual, as I found him with tears in his eyes last night when I went over after packing up our epic and torturously long stoop sale. He'd been watching the ordeal, and told me how much he's going to miss me, and how is he going to handle it when we leave? I promised to write and visit, but I'm not sure how I'm going to handle it either. It hurts to think about. I can only hope that he stays bright for years to come … I can't quite bear the thought of that porch without him but he's the only one left on it. He's struggled for a name once or twice lately though, and said that his mind just is slipping a bit. I hate that slope, and I know he fears it.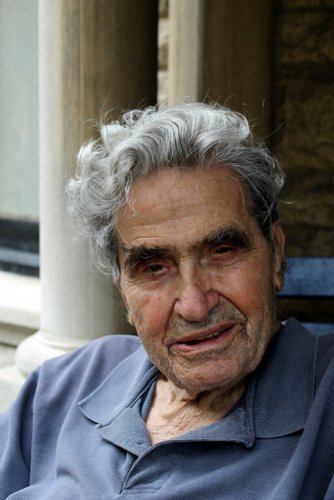 I love Eugene, and my life is infinitely the richer for knowing him. He's one of the Brooklyn roots that are tugging at my heart more and more these last days. I wish you knew him too, and I'm sure he'd love to have you on his porch to chat anytime. Please go if you can, and tell him I sent you. You won't regret it.