The sprinklers are on, the heat is here, and school is out … how's your summer going so far? We're in the thick of trips and playdates and visitors and parties, and it feels good but a little crazy. I'm looking forward to things settling down a bit, but honestly it doesn't look much like it's going to for awhile.
What were your summers like as a kid? I remember long days of games and the backyard pool and firefly catching. Books too, lots of books. Speaking of which, if you haven't checked out Bridget's new book On a Hot August Afternoon yet, please do. It's a great summer read, and as she points out in a recent blog post, one of the central themes is assumptions. How we make them all the time, and yet really have no idea what the whole story is. It really relates to parenting and relationships, and how we tend to judge or jump to conclusions when it's the last thing we'd want someone to do to us.
I've been glad that no one's been around to directly judge my parenting the last few days, they haven't been quiet ones. I'm halfway through a 3-week solo stretch with the boys, as my husband is working in DC at the moment. Raised voices, lost tempers, and angry words. Sigh. I think we're all missing Michael, and I should be the one taking the high road, but I'm not exactly managing it all the time.
It's funny, we've spent a lot of time apart in the past, but this separation feels a bit harder as we've actually spent more time together in the last few months than we have in a long time. When he gave up his studio a few months back for budget reasons, it made a real change in the house. It's always been his place to escape to, as well as his creative corner. Now there's not a spot calling to him every time he has a free night, and that's meant his heart isn't so torn between painting and home. I think it's been an awesome thing in our relationship, and I can honestly say things are as good as they've ever been between us. In that respect it's a pretty golden summer!
The boys are asking questions constantly about moving, and I really don't have any answers. We hope to leave the city when our lease is up, which means getting out of here by October first. That's not very far off, and yet we don't have a place to go to yet, and the areas we're looking at are pretty far flung and very different. We're going on the assumption that we'll know it when we see it, and that the path to it will become obvious. It's the way we've moved in the past, and I trust it will happen again. We have some options for short-term housing if we don't get it all figured out in the next 3 months, which I'm glad for. Not knowing … I'm still ok with it, but ask me again in a month and my freak-out meter might be getting a little crazy! The lists are growing in my head, and starting to get put onto paper.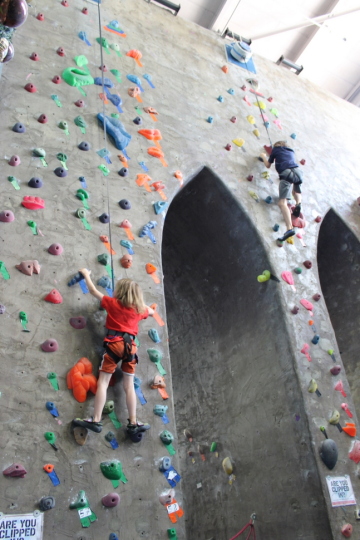 I'm confident through it all that we'll adapt as we need to, and find our way through it. The kids are still at pretty adaptable ages, and take to new things readily. Especially things they like, such as our first trip last week to Brooklyn Boulders, a huge indoor climbing gym. Douglas really took to it like a squirrel, scampering up faster and faster and acting right at home. They came home with "I Climbed the Brooklyn Bridge" stickers, see the evidence above … I do love this town!
How's your summer shaping up? Any great reads (or margaritas) to recommend? Please share!